Case Studies
Impact Data in Action: Insights from Karma Healthcare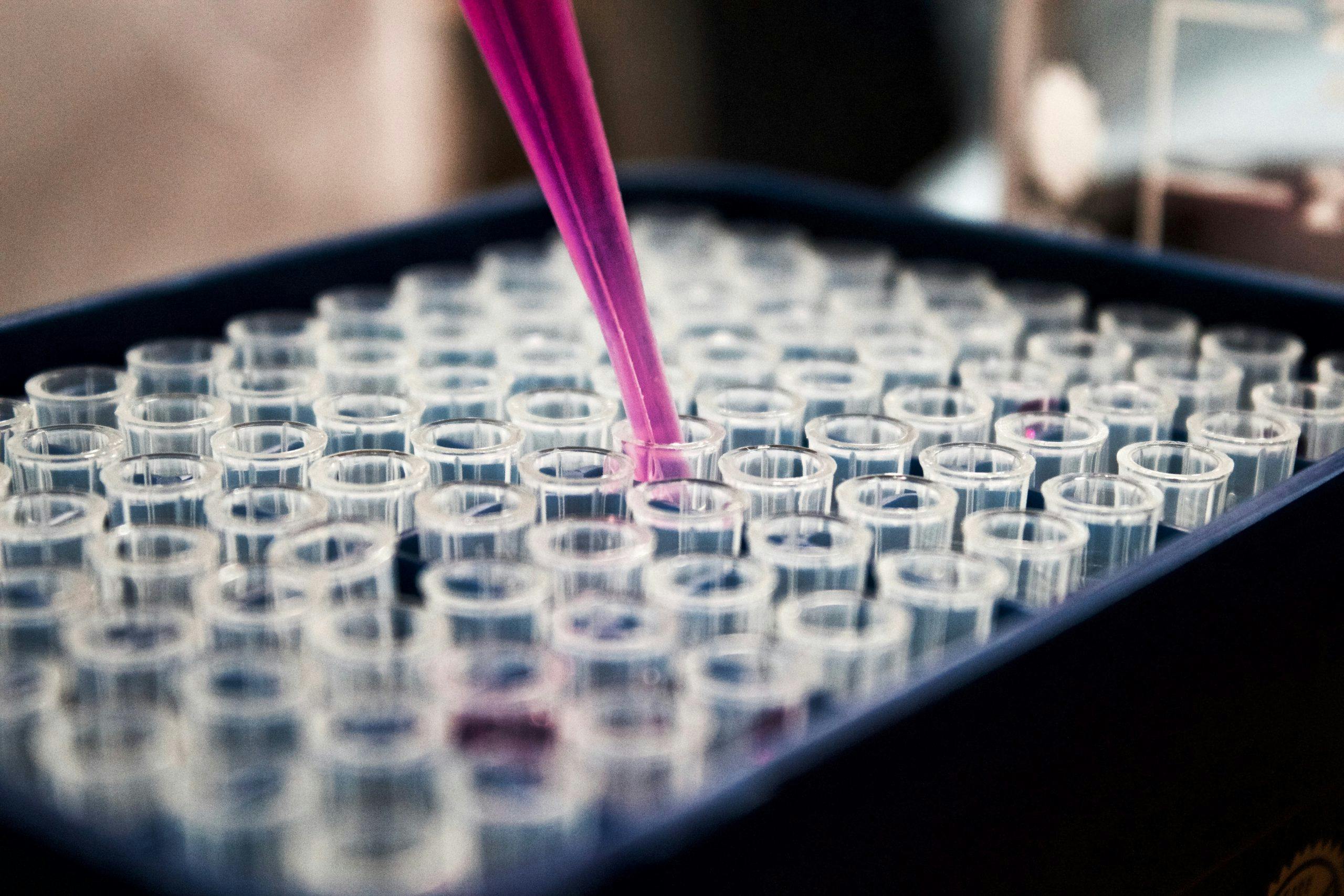 Karma Healthcare (Karma) is an impact-driven, award winning healthcare startup, working towards its mission to provide equitable access to quality primary healthcare. In July 2020, Karma and its investor, Beyond Capital, partnered with Proof to enhance Karma's ability to conduct data-driven impact measurement and active performance management.
In particular, Karma wanted to discover new insights to enhance its community outreach and health service delivery for children with malnutrition, and ultimately improve the health outcomes for these children. In partnership with Proof, Karma leveraged granular health outcomes data to optimize its impact performance and deliver a high level of transparency for its investors, and is making ambitious plans for scaling its IMM activities in the future.
Leveraging Data to Measure Impact
Using the Proof performance and analytics platform, Karma's first step was to easily and securely integrate its electronic health record system into the Proof system, which allowed for streaming analysis and visualization of its patient data while protecting patients' personally identifiable information. This integration was an important step to eliminate the reporting burden moving forward and allowed for ongoing performance management against a core set of impact metrics.
Next, Proof supported Karma in enhancing its metric selection and development process, moving away from basic outputs and towards actionable outcomes. This shift in focus towards outcomes was necessary to discover whether Karma's services were truly generating societal improvements and progress towards the Sustainable Development Goals. For Karma, instead of tracking the number of children with malnutrition who received services (i.e., an output), Karma and Proof identified a new metric that Karma had never tracked before: the percentage change in body mass index (BMI) among repeat child patients with malnutrition (i.e., an outcome). For the first time, Karma had a clean, structured, and automatically updating visualization that it could use to understand whether its services were increasing the BMIs of malnourished children over time.
The data revealed that the moving average percentage BMI change among these children was 3.3 percent — and increasing. This positive momentum was a testament to Karma's prioritization of this critical health issue in India over the past two years.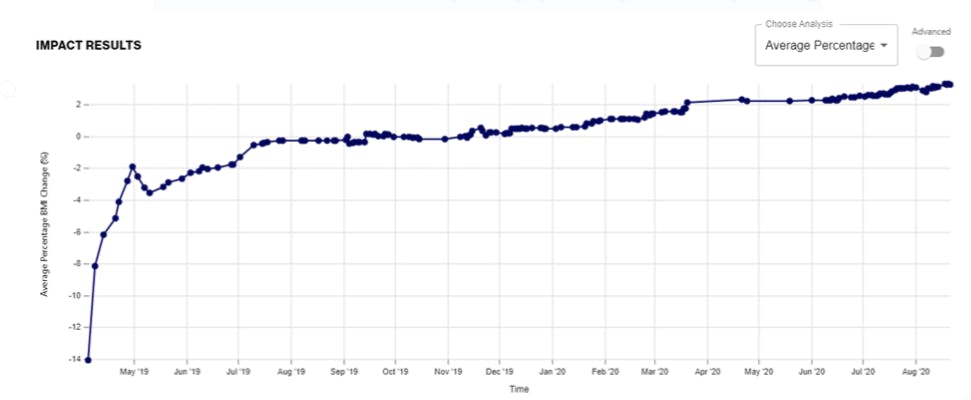 Average increase in BMI among children with malnutrition who were treated by Karma Healthcare more than once. Note: This graphic displays a cumulative moving average; as such, the first few data points appear as outliers due to the small sample size. This data will update automatically in the dashboard over time.

Optimizing Impact Performance
Using the Proof dashboard (click here to view the public dashboard), Karma then took the following steps to optimize its impact:
1. Subgroup Analytics & Best Practice Identification: Karma was able to easily analyze BMI variation among its health centers using the dashboard (see visual below). As a result, Karma has started to assess the care plans of the high performing health centers and identify potential drivers best practices used at these centers. These insights will then be shared among the other health centers and used to actively evaluate effectiveness against the outcome metric.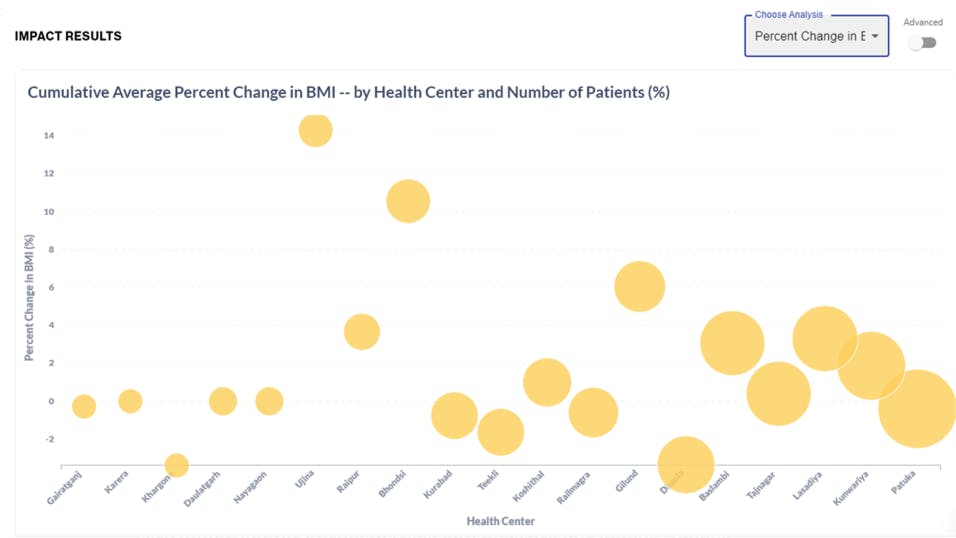 2. Proactive Outreach & Patient Follow-Ups: Karma was also able to pinpoint the small percentage of malnourished children with decreasing BMIs and conduct proactive outreach for follow-up appointments and higher touch service delivery. This led to additional follow-up visits, which positively impacts both the children's health and Karma's financial bottom line.
3. Performance-Based Incentives: Karma implemented a performance-based incentive program to reward doctors for achieving certain patient health targets. Karma plans to add its new metric on BMI change to this performance-based incentive program, aligning motivations around the end outcome versus the outputs.
Jagdeep Gambhir, Karma's CEO, is committed to continuing the process of data-driven IMM. As noted by Jagdeep, "As a social impact enterprise, it is very important for Karma to track and measure our impact. Impact reporting guides us to ensure that we are on the right track, and make informed decisions. Proof 's IMM solution has helped us keep track of our strengths and weaknesses, which helps us build our future expansion strategies."
Karma's Plan for Scaling Data-Driven IMM
As Karma looks to the months ahead, the team — led by Akshi Garg, Karma's Director of Strategy & Partnerships — plans to take the following steps to scale its data-driven IMM efforts:
1. Child Malnutrition Targets & Benchmarks: Karma will begin setting targets for BMI improvements (e.g. average BMI change required for the children Karma serves to reach healthy levels) and other related metrics for its child patients with malnutrition, as well as exploring benchmarks of other organizations doing similar work to further evaluate its performance.
2. New Impact Goals & Metrics: Karma is exploring additional metrics for new patient populations that align with its goals of improving health outcomes in the communities it serves. As illustrated in the dashboard, one of these new metrics is a community outreach conversion rate (i.e., how frequently Karma's efforts of conducting proactive health screenings in underserved communities lead to follow up patient visits). This aligns with one of the company's goals to expand quality healthcare access. Also displayed in the dashboard, Karma has recently added a third "super satisfied" response option to its patient satisfaction survey (in addition to "satisfied" and "not satisfied" responses), as part of its goal to ensure patient needs are being met and exceeded with the highest quality care possible. By prioritizing metrics that align with its strategic impact goals, Karma will be further equipped to optimize its impact in the future.
3. Financial Impact Analysis: As Karma raises additional impact investment capital for expansion, the team will work on calculating the impact return on investment, as well as each investor's impact contribution (using the Global Impact Investing Network's recently released Methodology for Comparing and Assessing Impact). This analysis will include returns in the form of tangible business efficiency gains (e.g., additional revenue from community screenings and outreach for preventive care) and intangible economic value of impact (e.g., the dollar value of every percentage point improvement in BMI).
Karma is currently looking to engage with impact funds that value the IMM activities and evidence-based services that the organization delivers. Securing new investment capital will allow Karma to expand its reach and access to high-quality health care in India, a critical necessity that is becoming more important with the health crisis brought by the COVID-19 pandemic.
Proof is proud to partner with Karma and Beyond Capital in achieving their impact and financial goals. We look forward to continuing this partnership and democratizing access to high-quality, data-driven impact measurement and active performance management. If you'd like to learn more, please contact us via our website.