Case Studies
Impact Insights: How One SME Lender Used Impact Data to Secure Big Funding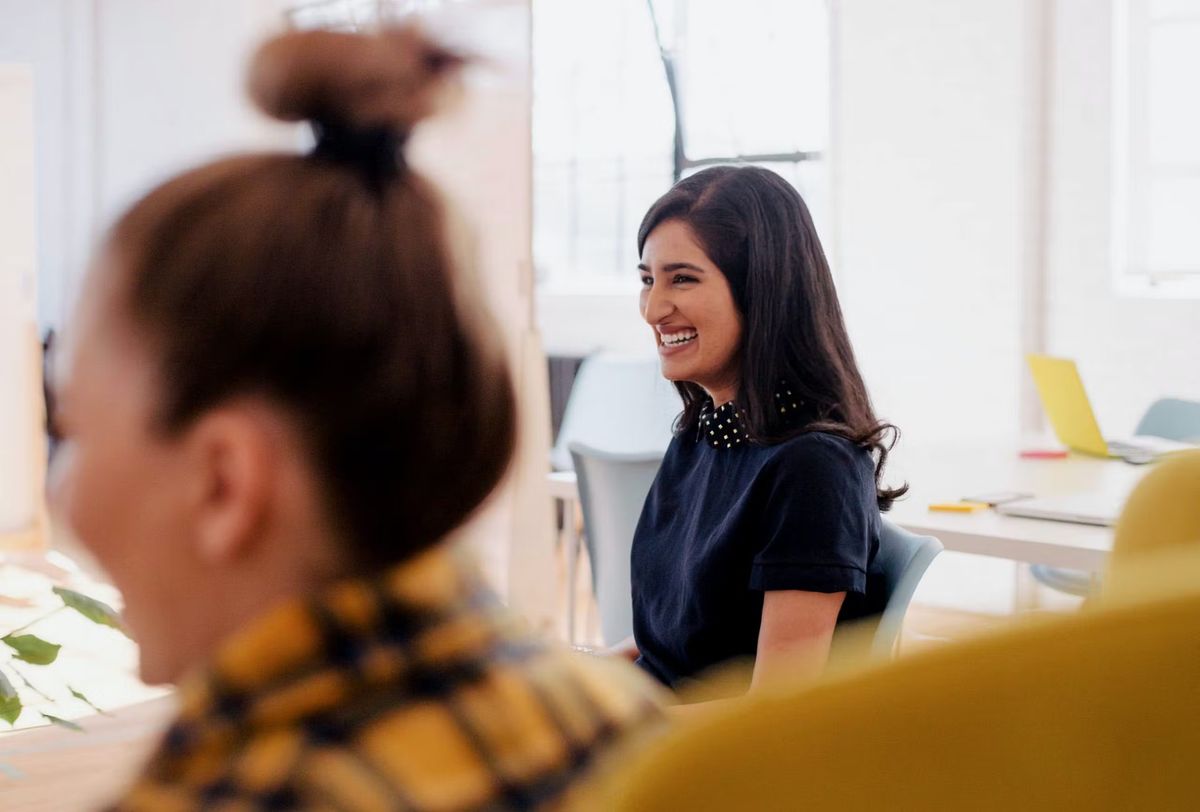 At Proof, we work with some of the world's most innovative changemakers to help them quantify their impact and showcase it to the world. Retail Capital, a South African small business funding pioneer, is one such changemaker.
Established in 2011 following an inspiring dinner conversation, Retail Capital has grown to be one of the leading sources of funding for small businesses across South Africa. Retail Capital believes that the future lies in the hands of small and medium-sized enterprises (SMEs) through employment opportunities, job creation, and small business development, and it works hard to ensure its values are reflected inside its own organization.
As we at Proof know all too well, quantifying impact is not easy. While some internal operational metrics may be straightforward enough to demonstrate – such as the percentage of women on a board of directors – others are less easy to identify, track, and improve.
These might include – as they did for Retail Capital – the direct impact of a business's operations on the wider economy and the contribution to the Sustainable Development Goals.
This is where data comes in: it is only with robust and consistent data collection and management that we can truly understand how a business is contributing both internally and externally to the positive development of people and the planet.
Read on to learn how Retail Capital worked with Proof to translate outcomes data into increased investment capital, preferable funding terms, and expanded social impact.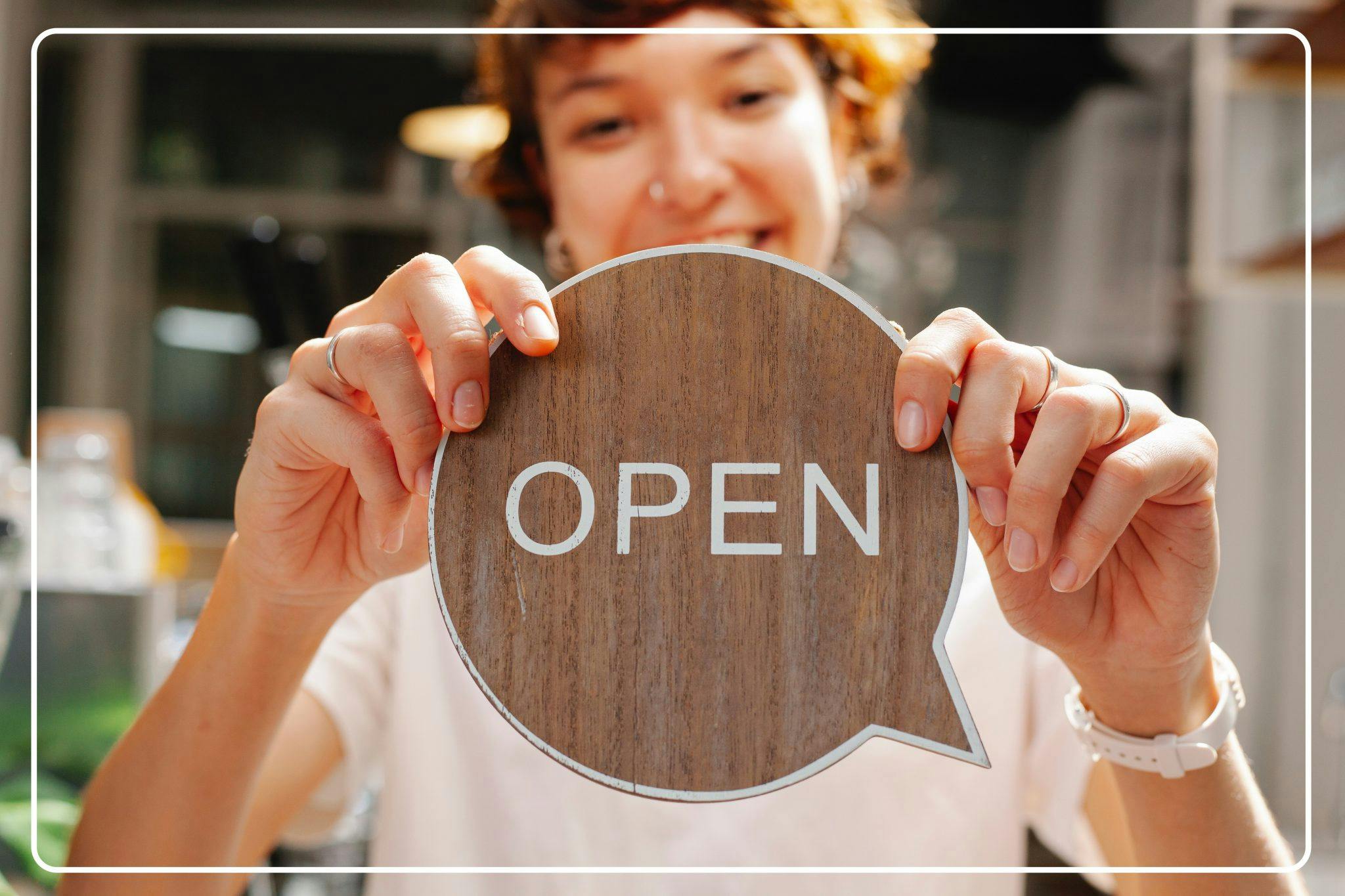 Meaningful Metric Selection
Before a business can begin on this path, it needs to know exactly which data it wants to collect – or rather, it must define its metrics. Proof started working with Retail Capital in September 2021 to do just this.
We began by meeting with Retail Capital's leadership, including visionary founder and CEO Karl Westvig, to identify the financial, social, and environmental metrics that mattered most to Retail Capital's business and stakeholders. We learned that the primary audience of the work would be Retail Capital funders, which added emphasis to the need to be as robust as possible with data collection.
"As a smaller financial services business, we are always building new functionality and onboarding new partners. There is always a capacity deficit and many long-term strategic plans are de-prioritized in favor of short-term wins. We realized that our funders and investors had a need to report on ESG and the UN Sustainable Development Goals (SDGs) to their funders and investors, and it would be great to provide them a window into our business. Whilst we had the data, we hadn't spent time defining each metric and what we should be reporting as well as showing changes over time. — Karl Westvig, founder and CEO of Retail Capital"
The exercise resulted in the identification of 33 different metrics across six impact categories that painted an illustrative picture of the impact that Retail Capital is having on the world. To prioritize its efforts, Retail Capital worked with Proof to rank each of the 33 metrics by importance and data availability, initially focusing on 15 high-impact metrics with data available.
Retail Capital's primary focus was on examining how inclusive it was in its lending. Retail Capital did this by implementing metrics that showed the rate of approved applications compared to the total applications submitted, access to capital provided to Micro and Small businesses (typically underserved in South Africa), and access to capital to women-led and owned businesses.
Internally, the firm looked at leadership diversity, employee tenure, and employment contract types through the lens of race and gender to situate itself and establish future goals.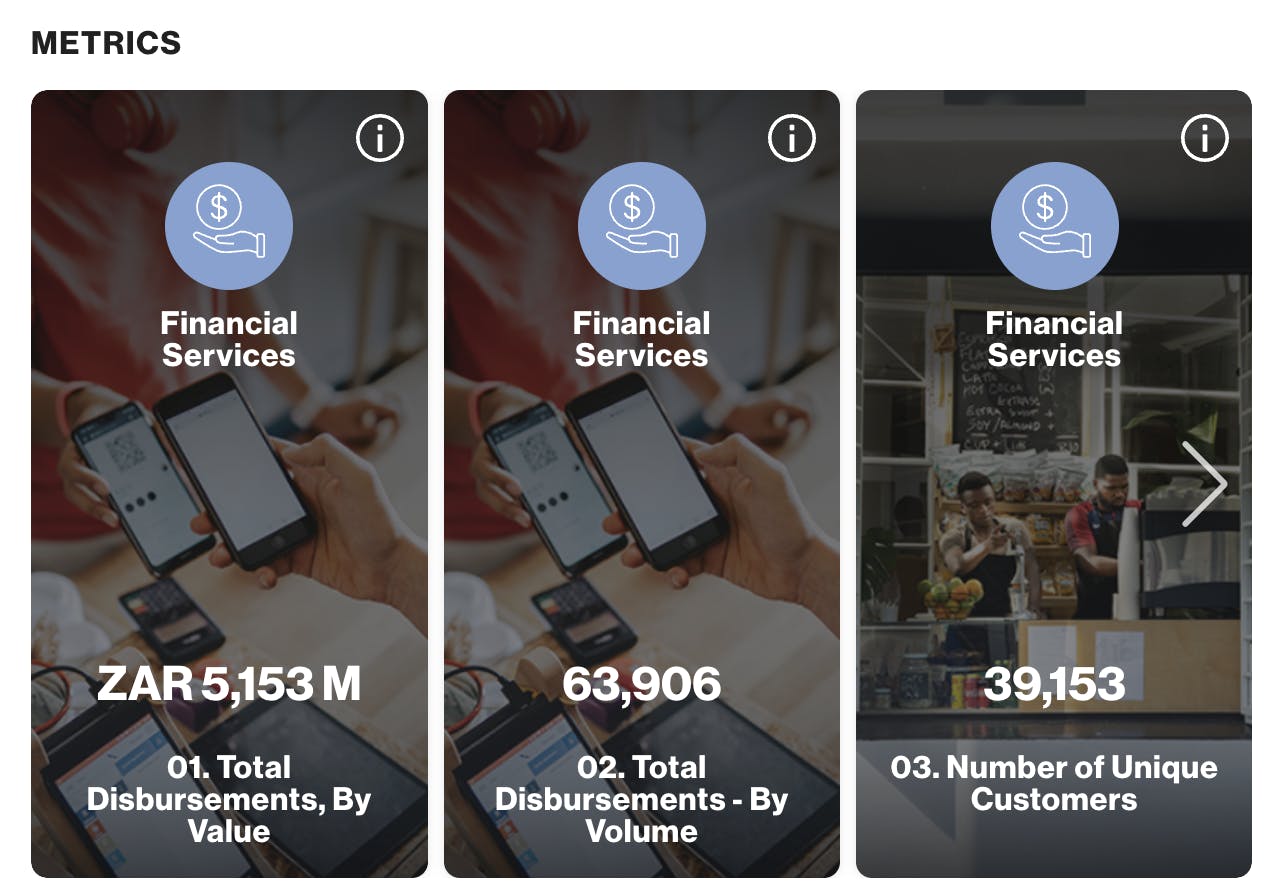 Mapping to Impact Goals
Importantly, Proof worked with Retail Capital to ensure these metrics were mapped to globally recognized impact investment and development metrics. The metric that focuses on female clients, for example, corresponds to the IRIS Metric: Client Individuals: Female (PI8330).
This is an essential part of what we at Proof do. We are striving to build a database that can be used by companies and investors to meaningfully measure impact in a unified and globally recognized way. It is only once we have this consistency that companies can understand how they fit into the global sustainability picture and what they can do to improve, while investors have a level of clarity that can allow them to deploy capital freely and with confidence.

Westvig says, "We had a couple of groups of metrics that were important. Firstly, reporting on our financial covenants to our funders was critical and makes it easy to do. Secondly, linking our key metrics to the UN Sustainable Development Goals, including gender equality, job creation, and access to financial services, was very important."
Integration and Automation
The next stage in the Retail Capital and Proof journey was to set up an automated system that could collect, integrate and monitor data that would reveal how Retail Capital was performing against its established metrics. This is the Proof dashboard: our proprietary, customized solution that allows clients to easily monitor and report on their impact to all stakeholders.
While data for most of the selected metrics was already being collected, Retail Capital's data was stored in disparate systems and was not readily accessible by external stakeholders or internal decision-makers.
To streamline this process, Proof set up a digital integration via API with Retail Capital's existing systems, including PaySpace (employee data) and Salesforce (transaction data). This involved the intake and analysis of over 5.5 million data points, showcasing Retail Capital's historic performance against its selected metrics. Data was scrubbed of Personally Identifiable Information, to ensure data privacy and security.
After the dashboard was documented, Proof and Retail Capital reviewed the data together. Some of the key takeaways included:
• 40% of disbursements are to female business owners (well above the 2X Challenge Criteria threshold of 30%)
• 95% of funding is to micro-businesses
• Disbursed more than R5 billion ZAR (South African Rand)
• Partnered with more than 39,000 SMEs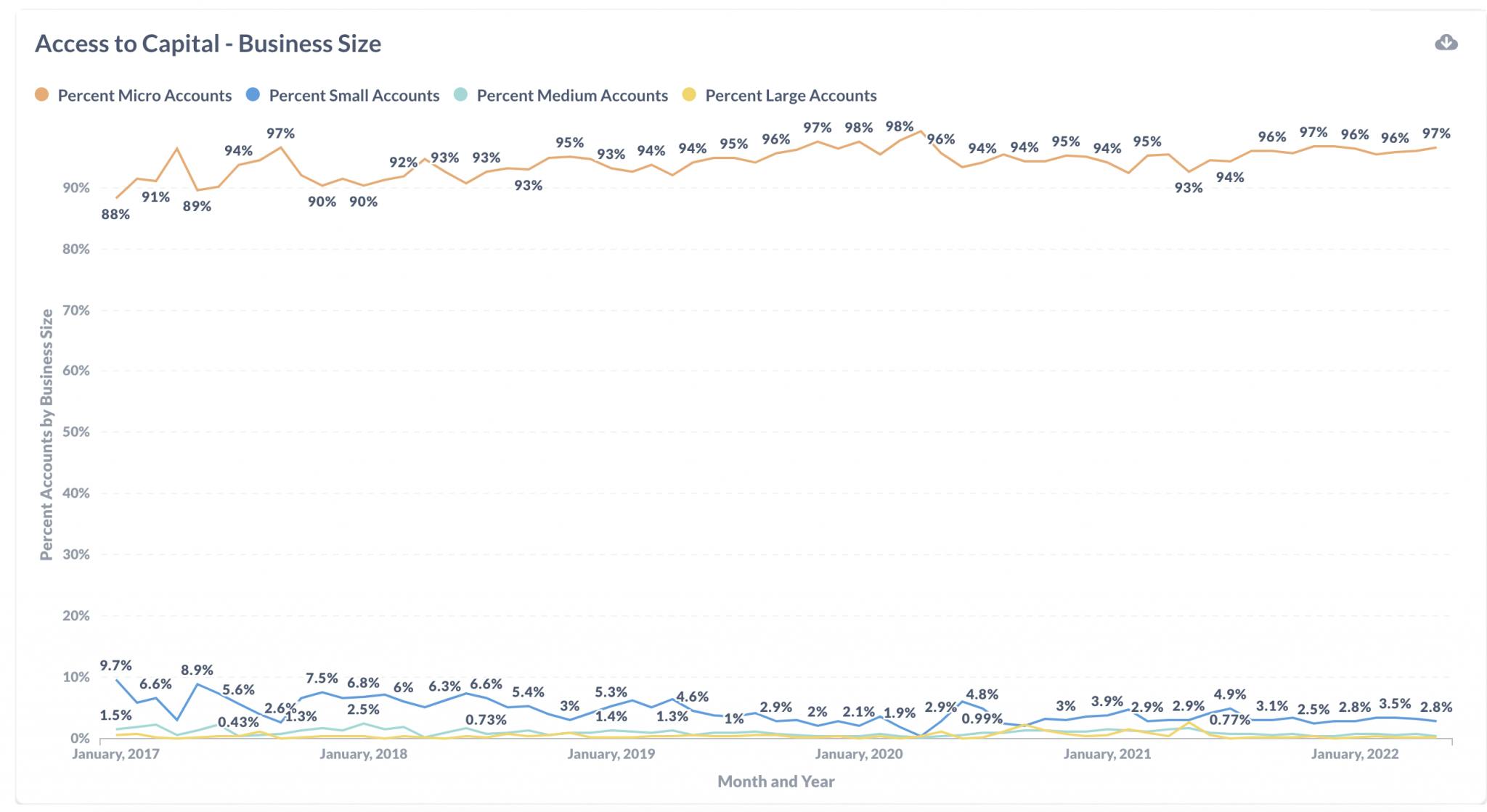 Data streams automatically into the dashboard on an ongoing basis, so that Retail Capital does not need to manually update its impact metrics when new enterprises are funded or when new employees join the team. The Retail Capital team uses the dashboard to identify opportunities for improvement on its core metrics and track progress over time.
In addition to being an indispensable reporting tool, Retail Capital's customized dashboard has also been a big success with its funders.
Westvig comments:
"Working with Proof helped us focus on what metrics to report on as well as transform the data into an easily accessible portal. The API integrations mean there is no ongoing overhead to create this data. The delivery of the portal to the funders has given us a huge step forward in the minds of the funders, as they have never seen such relevant, useful and real-time impact information. It will mean we become a preferred borrower as we grow our goodwill with them."
Funding Impact Outcomes
Indeed, the success of Retail Capital's dashboard went beyond even its most optimistic expectations. Retail Capital debuted the dashboard to its shareholders, funders, and in some cases their respective ESG heads, providing each of them with direct access to the POI dashboard.
Funders reported how impressed they were by the level of impact data available, that it was validated and verified by a third party, and how easy it was to review as a funder. One funder – a large financial institution in South Africa – not only agreed to waive admin costs on their lending to Retail Capital but introduced the idea of creating a gender smart note with a reduced credit spread as a result of seeing the dashboard data.
A number of funders expressed appetite to increase their funding to Retail Capital as they were so impressed by the performance management of the portfolio and impact reporting, while many expressed interest in having more of their portfolio companies implement a similar dashboard. Another funder has also shown interest in providing preferential loan terms for Retail Capital if it continues to meet specific targets that are tracked and monitored via the dashboard.
Maintaining Momentum
The impact journey is an exciting and constantly evolving one. As we will explore in future blog posts, once the impact measurement and management journey begins, the opportunities only grow. Collecting and clearly displaying the data that shows how a company is performing on impact can be a highly motivating and galvanizing exercise.
In the case of Retail Capital, proving their impact not only led to more favorable funding terms for them but for the many small and medium-sized enterprises that are the lifeblood of the South African economy.
Like many companies that begin this journey, Retail Capital isn't stopping here, either. The company now wants to focus the lens on its social impact, so it is integrating with survey findings to measure the number of jobs created and maintained through its lending: further critical inputs for funders, partners, and Retail Capital decision-makers to understand impact outcomes.
Westvig says he also plans to focus on gender diversity, both within Retail Capital's internal workforce and among loan recipients:
"More work will be done on the gender equality side, as well as linking the metrics to specific notes and allowing us to get preferred pricing and lower covenants over time. This will allow us to deploy less capital to certain portfolios."
Proving your impact as a business or investor is not always easy. However, it does not have to be as arduous as many of the current manual and box-ticking approaches that require a company to put in weeks and months of work to produce a report that is immediately out of date upon publication.
Rather, the answer lies in utilizing the current systems your company employs to produce the data that can seamlessly and automatically tell the story of your business: an authentic story that in and of itself can propel your organization towards even greater success.